Description
How to Use
Ingredients
Benefits
Includes: 3 Month Supply (2 Derma Rollers) 
The REVIVV Dermaroller is designed to improve your results.
Our handheld Dermaroller device contains 225 stainless steel needles at 0.25mm depth to stimulate hair follicles and increase absorption of the REVIVV Serum.
Several peer-reviewed studies have demonstrated that dermarolling improves outcomes when used in combination with topical formulas and can stimulate hair follicles on its own. The REVIVV Dermaroller is the perfect addition to the REVIVV Serum.
The REVIVV Dermaroller is intended to be used in combination with REVIVV Serum and may also be used as a standalone product.
Share
View full details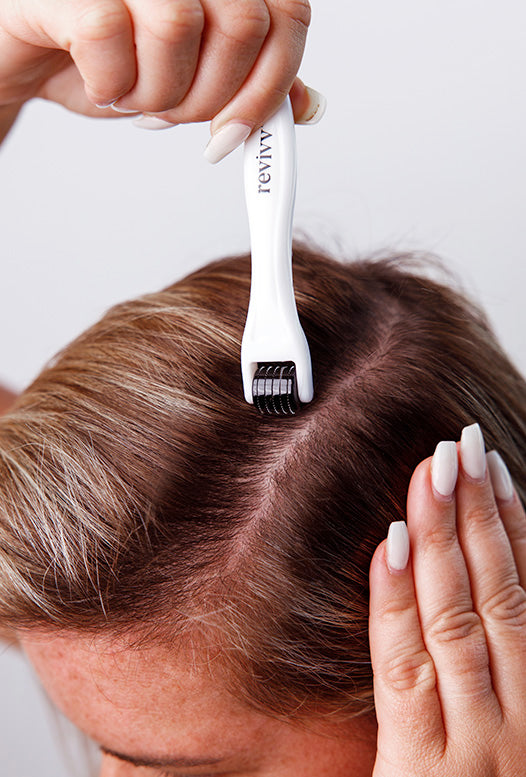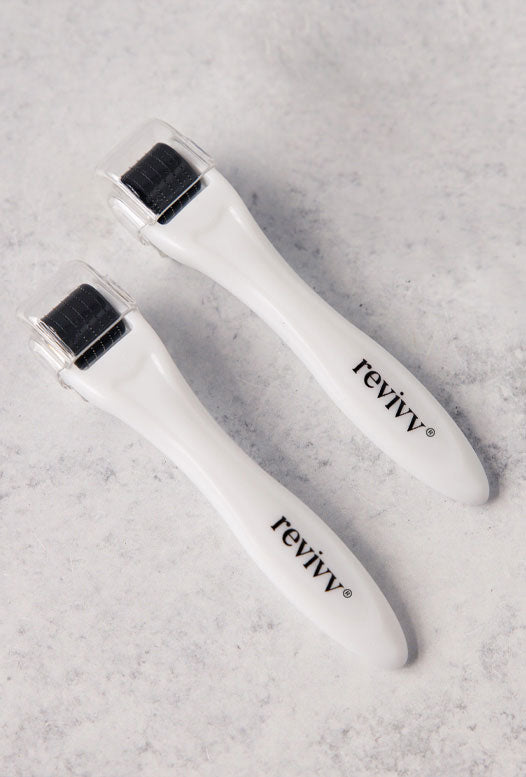 1.
Improves the topical absorption of REVIVV Serum.
2.
Directly stimulates the hair follicles when applied to the scalp.
3.
Creates a synergistic effect when combined with REVIVV Serum.
HOW TO USE
Clean scalp and Dermaroller prior to use. Apply light pressure while rolling back and forth across the scalp. Complete your session when scalp becomes sensitive. Apply REVIVV hair rejuvenation serum to scalp. Clean and store Dermaroller.
FAQ
Can the Dermaroller be used on curly hair?

The Dermaroller should be tested on a small patch of the scalp to determine compatibility with your hair texture.

How many times per week should I use the Dermaroller?

The Dermaroller may be used 2-3 times per week.

Does my scalp need to be clean before using the Dermaroller?

It is recommended to wash your scalp before dermarolling for best results.

Why are your rollers 0.25mm in length?

Our Dermaroller is within the FDA-permitted depth of 0.3mm for at-home use.

When should I apply REVIVV after using the Dermaroller?

You may apply REVIVV immediately after using the Dermaroller or anytime thereafter.

How do I keep my Dermaroller clean?

The Dermaroller can be briefly boiled to sanitize. Alternatively, antiseptic solutions such as alcohol or betadine can be used to sanitize the Dermaroller.

When should I replace my Dermaroller?

Replace when needles have become dull.